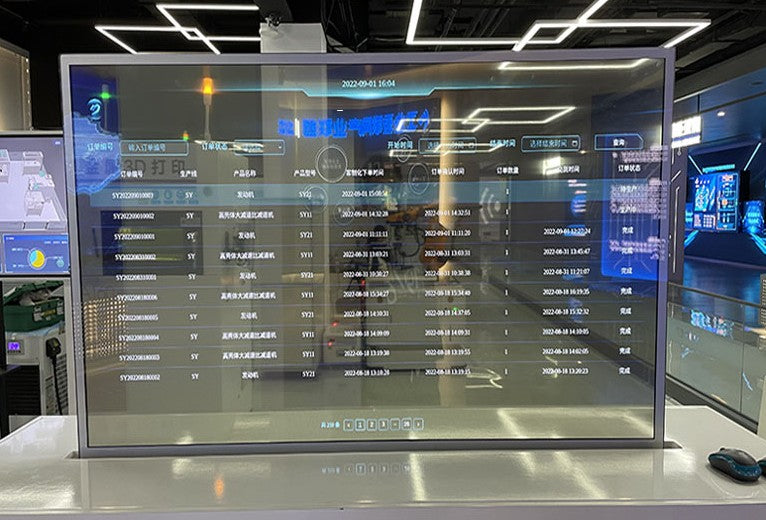 Custom transparent OLED display
If you need custom functions or appearance, such as a computer monitor, transparent touch screen, video wall, digital signage, etc, please feel free to contact us. We can design for you for free. Available in 30", 49" and 55".
Contact Us
FAQs
What is a transparent OLED display?

It's a kind of display product that is made of transparent OLED(organic light-emitting diode). Without a doubt, it's a real OLED screen and you can really see through it. Such a device is a kind of very latest product and its transparency can reach up to 43%.

Apart from OLED, there is another kind of transparent display in the market. It's made of LCD screen. That means it needs to work with an LED backlight system because the LCD can not emit light by itself. This condition makes the application of transparent LCD very narrow.
What can a transparent OLED display do?

As one of the latest technology, transparent OLED displays can be used on many occasions. For example, it can be made into a transparent television to be used in your home. Maybe you think why a TV needs to be transparent. However, compared with home use, such device is mainly used in commercial area. The followings which are made of such devices are very popular.

Transparent monitor: Have you ever thought a computer monitor can be see-through? In fact, a clear PC monitor is very popular. Many customers buy such a product from us and then connect them to the computer. Our products use this product in the classroom, museums, theatres, and other places.

Digital signage: It is a multimedia playing platform that can be used to play pictures, videos, PPTs, etc. Digital signage with a transparent OLED screen is always used in stores. When it's placed close to the windows. The passengers can see the products behind the screen and read the introduction or information about the products. Many businesses use such products to attract customers. Free software will be sent to you with such a device. You can use the software to manage the content displayed on the screen at any time and anywhere. It's very convenient.

Kiosk(touch screen): Transparent OLED can be made into the kiosk. A kiosk is a machine that provides information and services on the display screen. An interactive kiosk with a see-through screen can be used in the restaurant. You can also call it a digital menu board. The customers can use the interactive touch screen to select the foods they need and finish the payment. For a high-end restaurant, such a device can greatly improve the user experience.

Video wall: The transparent OLED display can also be made into the video wall. Such video walls can be used in stores, museums, airports, and many other places. It can also be used in the door. Due to transportation, the 1x2 and 2x2 video wall is the most popular.
What's the price?

As this technology is too latest, so one of the reasons that the transparent OLED display is still not very widely used by ordinary families is that its cost is still high. However, this is not a problem for a company or a brand. That is why the such device is popular in commercial area.

When such a device was first available in the market, the unit price is over 20, 000USD. With the development of technology, the price has been much better than before. The unit price can be less than 10,000 USD. This is good news for anyone who loves the such product.
WARMERT is a professional manufacturer or supplier of transparent OLED products. All our screens come from famous brands, such as LG, etc. Our price is reasonable and affordable. You can get the free design as soon as you contact us. Our engineers with rich experience can design products to meet any application.
What are the available sizes of transparent OLED display?

If you need a large-screen device, then there are 3 kinds of screen sizes available at present. They are 30-inch, 49.3-inch, and 55-inch. Maybe 77-inch will be available at the end of 2023. In the past, only a 55-inch transparent OLED display is available. The customers have no more choice and such a size is a little too big for many applications. The situation is different from the begging of 2023. The 30-inch and 49.3-inch is released to the market. The customers can select the best size for their applications.

The followings are the resolution and outline dimensions of 30 inches to 55 inches. If you need more information, please feel free to contact us.

Screen size Resolution Outline dimension
30" 1366x768 676x387mm
49.3" 1920x540 1218x357mm
55" 1920x1080 1221x699mm