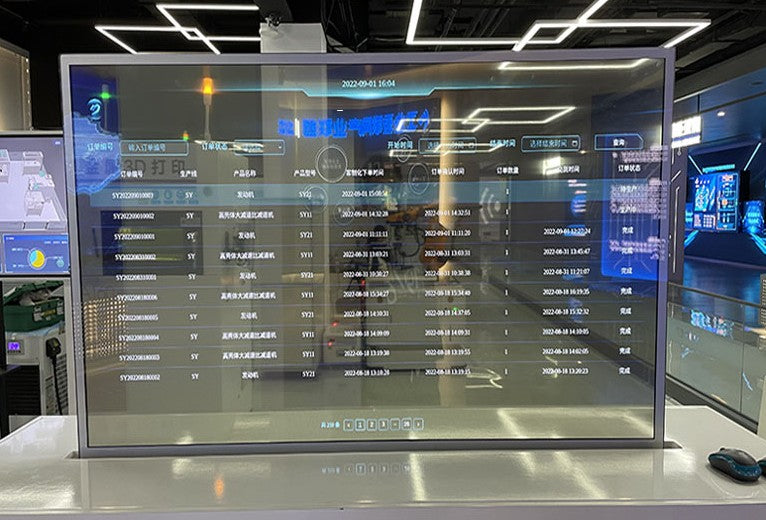 Custom transparent TV screen
If you need custom functions or appearance, such as a transparent touch screen, digital signage, video wall, computer monitor, etc, please feel free to contact us. We can design for you for free. Available in 30", 49" and 55".
Contact Us
Not Just Transparent Television
FAQs
What is transparent OLED TV?

A transparent TV is a kind of see-through television that is made of a clear OLED(organic light-emitting diode) screen.

Without a doubt, such a device really exists. If love to share the latest technology or
electric products with your followers, this device is a good choice.

There are several brands or companies that have made the phototype of transparent
TVs, such as Samsung, LG, Panasonic, etc. Xiaomi see-through TV is a product that has been mass-produced, but it is only released for the Chinese market.

In order to meet the market demand, we design and produce such an amazing product. WARMERT's goal is to transfer the latest technology to our customers. If you want to buy a transparent television, WARMERT is your best choice.
What is the point ofTransparent TVs?

The biggest point of a transparent TV is that you can see through it. That means that you can see what's behind the TV when you are in front of it. Maybe you doubt that is this function necessary for television or do I need to redecorate my wall to make it beautiful enough before I place such a device in front of the wall?

Well, that's really a problem. Although you can place such a television in front of a window so that you can watch TV and enjoy the scenery outside the window at the same time. However, such a device is not mainly designed for home use. It's mainly used in commercial areas, such as supermarkets, museums, airports, etc. A smart window concept is designed to be used in conference rooms, offices, shopping stores, etc. The museum uses it to display information. The visitors can enjoy the exhibits behind the screen while watching the introduction of the exhibits on the screen.

Another outstanding point of a transparent TV is that it has a very high-end appearance. Normally, the TV screen is installed on clear tempered glass. That means this device is ultra-slim and the main body of the whole product is transparent. Such a television is very attractive and high-end. That's why plenty of companies like to use it to display their brand or products to customers.
What's the price or cost of a transparent TV?

The price or cost of transparent OLED devices was very high in the past. For example, the unit price of a 55-inch device was over 20,000 USD in 2020. With the development of technology, the price is much better than in the past. For example, if you want to buy a Xiaomi lux tv out of China, then the price is about 10,000 USD.


The price of such devices is still high, this is a normal phenomenon for new technology. WARMERT can provide a better price for our customers. If you love such a product, please feel free to contact us. We can also provide a discount if you need a good quantity. For commercial applications or special projects, we can also provide free design services.
What are the availablesizes of transparent TV?

In the past, only 55-inch was available. The situation is different from the end of 2022. Several new screen sizes are available now, such as 30-inch and 49-inch. That means this kind of product is more and more popular. It's sure there will be more screen sizes in the future, such as 77-inch, etc. The followings are some basic information about different screen size screens.


Screen size Resolution Outline dimension
30" 1366x768 676x387mm
49.3" 1920x540 1218x357mm
55" 1920x1080 1221x699mm

For transparent tv, the 30-inch and 50-inch is the best choice. The 49.3-inch screen is very narrow. It's usually used in portrait mode.
What are the functions of a see-through television?

WARMERT's see-through TV is very smart. A wireless remote control and keyboard will be sent to you with the TV set. You can use the remote the install and delete APPs freely, such as Youtube, Google Play, etc. If you don't want to watch TV, you can also use the keyboard which is specially designed to play games.

Apart from the common functions of a smart TV, for commercial applications, the transparent TV screen can be made into a device with many other functions. Please check the following list.

PC monitor: There will be an HDMI interface on the TV set. Use the remote to select the signal source to HDMI, then you can use an HDMI cable to connect the TV device to your computer. In that case, it can be used as a PC monitor. It's also available if you only need the monitor function.

Digital signage: It's an auto-play platform. Plenty of shopping stores use it to play their advertisements and introduce of their brands or products.

Video wall: It consists of several pieces of transparent TV screen. According to the number of screen, the most commonly used video wall is 1x2 and 2x2。

All-in-one PC: A PC motherboard and other parts will be installed in the base of the set. That means it's a kind of all-in-one computer.

Touch screen: The touch screen is an important input device. The visitors can use it to select and input the information they need. For example, the digital menu board with a touch screen which is transparent in an upscale restaurant is really attractive. The customers can use the interactive device to select the foods they need.